What is the Bandwagon Effect?
1. Examples of the bandwagon effect include:
Gaming:  Similar to pop music, published charts of sales of individual games can have a huge impact on the popularity of games. In July 2016, Pokemon Go, a new smartphone app incorporating virtual reality become a global   phenomena as more and more people wanted to involved in a novel new game.  As the app was released in one country or region at time it also benefited from the scarcity heuristic.
Drinks. Where drinks become part of the fashion of socialising, such as vodka, brands can benefit from the bandwagon effect when popularity is all that counts.
Stock Market Bubbles: Stock market and asset bubbles occur when people stop using their own judgement and rely on the wisdom of the crowd. People wrongly assume that other investors must have knowledge they don't and also they seek to avoid regret (which they might feel if they don't follow the crowd).
Fashion: Sales of clothes, shoes and other fashion items are highly responsive to their perceived or actual popularity. People love to buy clothes that are perceived to be the latest style to demonstrate they are keeping up with the latest trends.
The bandwagon effect demonstrates the importance of social influence and implicit motivations on human behaviour. This includes the power of social-norms, customs, traditions, and  a desire to conform and belong to groups that are integral to our social networks. Some of the factors that contribute to the bandwagon effect include:
Loss Aversion: 
People are loss averse, they are more concerned about a loss than a gain of the same size. This is partly because of the  fear of missing as regret is a powerful and deeply unpleasant emotion. When everyone else appears to be doing something we can become anxious that we are missing out on something valuable and our loss aversion motivates us to join in.
A Need to Belong: 
people are "super social apes" as marketing expert Mark Earls points on his book Herd. We have a strong desire to belong to groups of people we admire or want to be associated with. We also don't want to be the odd one out or to be excluded from our social networks because we don't conform to social norms, customs or traditions.
People like to be Right: 
Some psychologists believe that the bandwagon effect may be an evolutionary strategy for reducing the risk of making a poor decision. Being part of a large crowd can certainly provide protection in dangerous environments. Merchants also risk losing reputational capital if they sell sub-standard goods or services to a member of a large group. People understand this and so assume that they are less likely to be ripped-off if they buy from a well-known supplier who is known to other members of their social network.
People also love to be on the winning side and using our social network to identify what everyone else appears to be choosing seems a good short-cut to make the right decision. People assume other people may know something they don't and that 'everyone else can't be wrong'.
3. The Downside to the Bandwagon Effect:
The bandwagon effect can be relatively harmless when it influences what music we listen to, the clothes we wear, the colours we use to decorate our house and the gadgets we buy. Often the 'wisdom of the crowd' can help us make relatively good decisions. The bandwagon effect can be more dangerous though if we completely suspend judgement in areas like investments, health, politics and business.
In the UK many people were influenced by misleading and incorrect information about how leaving the EU would allow the country to 'take back control' of sovereignty and allow the government to  give an extra £350m a week to the NHS.  Voters were told they could keep the same benefits of EU membership without having to pay for it. People in the UK now face losing rights guaranteed under freedom of movement, increased barriers to trade with their closest and most important trading partner, and years of difficult negotiations with the EU.  None of the benefits they were told would come from leaving the EU have so far materialised.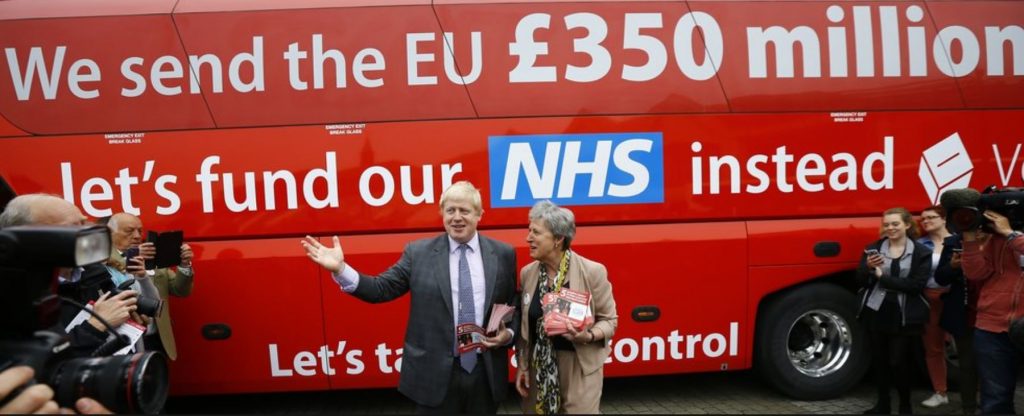 Flawed and misleading research from  the anti-vaccination movement  has resulted in a significant fall in the proportion of parents getting their children immunized against dangerous childhood diseases. In the UK,  the decline in the proportion of children being vaccinated with the MMR (measles, mumps and rubella)  vaccine contributed to the World Health Organisation withdrawing the UK's measles free status after it had 231 cases in the first quarter of 2019.
Stock market crashes are very damaging to most people even if they don't directly hold any shares. That's because most pensions are invested in stocks and shares. A crash can also damage confidence in the economy and create uncertainty which may delay or stop investment and recruitment.  Most stock market crashes are caused by asset bubbles resulting from investors suspending judgement and following the crowd. In these circumstances the bandwagon effect can be very damaging to the health and security of millions of workers who rely on the value of stocks and shares for their pension or as a savings vehicle.
During the Coronavirus pandemic of 2020, a conspiracy theory emerged which blamed the roll-out of the 5G telecommunications technology for the spread of the virus. It was claimed that 5G degrades the immune system and the risks were being covered up by the global telecommunications industry. As the theory spread mobile phone masts were set alight a across European countries and telecommunication engineers were abused. This  threatened important communication networks during a global health crisis. Scientists pointed out that COVID-19 is spread through respistory droplets and you cannot transmit droplets through 5G waves. Further, a number of countries hardest hit by COVID-19 have no 5G masts (e.g. Iran).
Lean Cuisine manufactures low fat food for people who people who want to be careful about their calorie intake. Rather than focusing on the obvious weight control benefit of their brand Lean Cuisine  recognised that people do not necessarily buy their product because they want to lose weight.
A strong implicit motivation to purchase Lean Cuisine is that customers want to feel good about themselves for being careful about what they eat. To reflect this core brand purpose they created an ad "#WeighThis" which showed people talking about what they are most proud of in life. The YouTube ad went viral because it communicated this core purpose in such an emotional and inspiring way that it instantly engaged people who watched it.
Related posts:
Innovation – What is the most effective strategy for innovation?
Herd instinct – Are most purchase decisions the result of social influence?
Herd instinct – How do social networks influence human behaviour?
Herd instinct – What makes social networks tick?
Word of Mouth – 6 myths about word of mouth marketing.
About the author:  Neal provides digital marketing optimisation consultancy services and has worked for  brands such as Deezer.com, Foxybingo.com, Very.co.uk, partypoker.com and Bgo.com. He uses a variety of techniques, including web analytics, personas, customer journey analysis and customer feedback to improve a website's conversion rate.